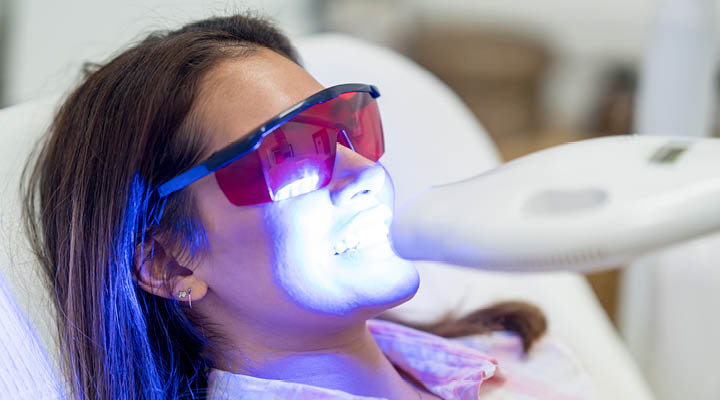 In today's world, you see teeth whitening products and promotions all over television and social media, but how do you know which products work and how to start a regimen?
When it comes to teeth whitening, all the different methods and treatments can be overwhelming, but we have some tips and tricks to help you freshen up your smile while still maintaining a healthy mouth.
First, let's look at why you may need to consider a whitening routine.
What Causes Teeth to Change Color
Many factors play into teeth losing their shine, here are a few of the most common reasons:
Now that you know some of the factors that contribute to teeth losing their shine, here are a few teeth whitening do's and don'ts:
Do
Talk to your dentist before starting any teeth whitening treatment. It's important for them to know the state of your oral health before you set out to make cosmetic changes.
Consult with your oral health provider about in-house options such as chairside bleaching, which is done during an appointment, or at-home options using custom bleaching trays.
Research the best products for your goals. Some teeth whitening items won't get the job done and others can even harm your oral health. When in doubt, ask your dentist for advice.
Know your benefits and coverage ahead of time. Many cosmetic procedures aren't covered by insurance and can't be paid for through services like Flexible Spending Accounts.
Maintain your regular oral health routine. Remember to brush for at least 2 minutes twice a day and make sure you are flossing properly.
Visit your dentist regularly so they can verify that your teeth and mouth are as healthy as can be.
Don't
As stated earlier, don't start any teeth whitening treatments without consulting your dentist. They can tell you if you have any contraindications to starting a whitening regimen, such as allergies or sensitivities, age-related issues, oral health complications or diseases, cavities, and more.
If you're pregnant or nursing, teeth whitening should wait until after these as well.
Looking for a cheaper at-home alternative to bleach trays? Don't just pick something off the shelf. Many bleaching alternatives are sold online and in grocery stores, but that doesn't mean these over-the-counter products are safe or effective. Look for American Dental Association approved items here first.
Don't assume teeth whitening will work evenly on all your teeth. For example, whitening doesn't work on caps, veneers, crowns, or fillings. Teeth whitening also may not work if your teeth are internally discolored or have suffered trauma.
Don't forget that teeth whitening can lead to or even heighten tooth sensitivity. If this happens to you, make sure to discuss with your dentist how to balance or remedy your sensitivity.
Want to take your teeth to the next level? Consider these natural methods for complimenting your efforts:
Natural Whitening Methods
Brushing and Flossing – You already brush twice a day and floss regularly, right? Now step up your toothpaste game with one that contains baking soda. Baking soda can help eliminate bacteria and scrub away any superficial stains on your teeth. Just be sure to check for ADA approval.
Oil Pulling – Swishing coconut oil around your mouth and through your teeth for 15 -20 minutes each day hasn't been proven to whiten your teeth, but it can help remove bacteria and plaque from your mouth, thus eliminating the potential for cavities.
Prevention – Like we said above, limiting certain foods, drinks, and tobacco products can play a significant role in maintaining a healthy smile. But if you must regularly consume any of these items, brushing your teeth afterward will help keep stains to a minimum.
As you can see, there are lots of factors to consider when it comes to teeth whitening, but the best method to keep your smile bright revolves around being consistent with your diet and your oral health care routine. Maintaining a healthy mouth requires constant care through brushing, flossing, and visiting the dentist for checkups and cleanings at least twice a year.
Looking for more oral health tips? Check out this blog. Need to find a dentist? Use our handy search tool.