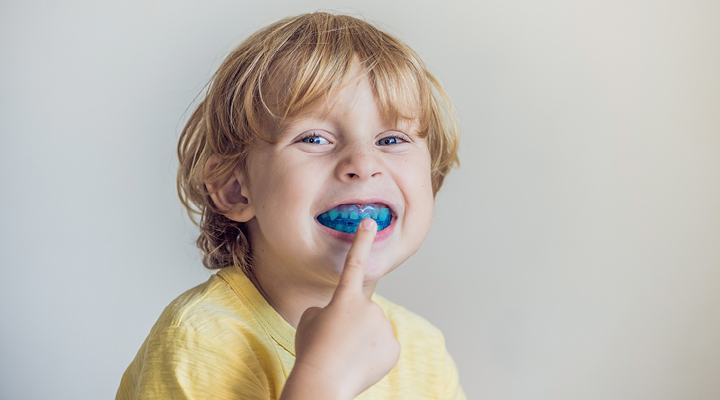 You see mouthguards in the Super Bowl, at the Olympics (both summer and winter), and they're often a staple of most professional, amateur, collegiate, and youth sports leagues around the country. But for parents, the question often on their minds is: why should my child wear a mouthguard?
The simple answer, of course, is to protect the mouth.
It should not come as a surprise that one of the sports with the most potential for facial injury, boxing, is where mouthguards got their start. In the 1920s professional boxing was the first organization to adopt a mouthguard requirement. It wasn't until 1962, when the American Dental Association (ADA) began recommending their use, that teenagers and children were required to wear mouthguards, starting with high school football programs.
Now, the ADA suggests wearing a mouthguard when participating in any number of high-velocity or contact-heavy sports such as basketball, lacrosse, rugby, soccer, water polo, hockey, volleyball, cycling, skiing/snowboarding, and more.
You wouldn't let your child skip brushing and flossing their teeth every day, would you? Of course not, because good oral health sets the foundation for a lifetime of quality overall health. So why would you let your child risk oral or facial injuries while playing sports?
According to a recent study, athletes without mouthguards were at more than twice the risk for orofacial injury than those who used them. Orofacial injuries include fractures to teeth or facial bones, avulsions, luxations, intrusions, and more. Some of these injuries aren't just costly to fix, either.
The mouth plays a role in many areas for kids, including:
How they smile – A healthy smile can be used to show happiness, help with confidence, and as a non-verbal communication tool.
How they speak – Teeth play a role in learning verbal and non-verbal communication as a child grows up. Research has found that tooth extraction can affect speech patterns and even development.
How they eat – Proper nutrition—including a healthy diet—plays a key role in life at any age. Eating becomes a lot harder without healthy teeth.
Any injury, particularly serious ones, can be detrimental to your child's wellbeing.
Now that you know how important it is that children wear mouthguards while participating in sports, it's time to do something about it.
First, check your dental benefits to see if mouthguards are covered. The best protection comes from a mouthguard that's custom-made by your dentist to  fit your child's mouth.
If you don't have a mouthguard benefit, look for boil-and-bite or stock mouthguards at your local sporting goods store. Boil-and-bite versions offer a chance at a somewhat customized fit, while stock guards provide more general protection and comfort.
Finally, talk to your child about the importance of their teeth and why they need to wear their mouthguard whenever they're playing sports. Also,  discuss the best ways to keep them clean after use. They can get pretty gross fairly quickly.
Don't forget—a  healthy mouth doesn't stop with a mouthguard. Scheduling regular visits to the dentist and  brushing twice (for two minutes each time) and flossing at least once every day are as important as next season's game schedule!
Are you looking for more children's dental health tips? Check out the rest of our blog.