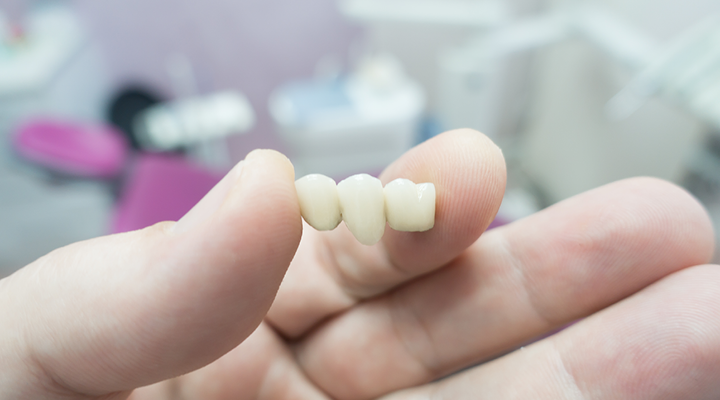 If a permanent tooth is knocked out or removed, there is no natural replacement for it. This is where a dental bridge comes in. A dental bridge fills the space where a natural tooth once was with a false tooth. The dental bridge uses the teeth on either side of the gap as support, making it look like a natural tooth.
What is a dental bridge made of?
A dental bridge can be made of many materials, such as gold or ceramic, but is usually made from porcelain to look natural. It's important to talk with your dentist to help determine which material is best for you.
Why do I need a dental bridge?
There are many reasons someone may need a dental bridge. A dental bridge can fill the unsightly gap if a permanent tooth is knocked out accidentally or removed because of an oral health problem, such as tooth decay.
Additionally, gaps in the teeth can lead to problems such as:
Difficulties with speech or pronunciation
Trouble chewing food
Low self-confidence when smiling or talking due to a gap
Bone loss from the jaw due to the missing tooth or teeth
Teeth on either side moving to "fill" the gap, which can cause bite problems
If a missing tooth or teeth are impacting your quality of life, a dental bridge may be the best option for you. Talk to your dentist to see if you are a good candidate for a dental bridge.
Different types of dental bridges
There are four types of dental bridges:
Your dentist will help determine which bridge type is best for you and your specific needs.
Dental bridge procedures
The exact steps in a dental bridge procedure depend on the type of bridge you need. However, in all cases, your dentist will need a digital scan or impression of the gap and surrounding teeth to form the bridge, ensuring a perfect and natural fit.
Traditional bridge procedure
If you receive a traditional bridge, the first step is preparing the teeth on either side of the gap for their crowns. This step involves removing enamel and dentin from them to make room for the crowns.  Then a temporary bridge is placed over them until the permanent bridge is ready to be placed.
The second step of a traditional bridge procedure is installing the permanent bridge. The dentist removes the temporary crowns, ensuring the fit of the dental bridge and cementing the bridge. Once the bridge is cemented in place it is considered permanent. Bridges are considered "permanent" because they cannot be removed like dentures. However, it will need to be replaced at some point in the future.
Implant-supported bridge procedure
This bridge type is the most invasive because it requires surgery and a potentially long recovery period. However, it's the most stable of all dental bridge procedures. During this procedure, implants are placed in your jaw. In a second procedure, the crown or crowns will be placed on top of the implants. Implant-supported bridges can take months to be fully completed.
Maryland dental bridge procedure
During a Maryland dental bridge procedure, your dentist roughens the backside of the teeth on either side of the gap to help the "wings" of the bridge bond to them. Once the bridge is fitted, your dentist will use resin to adhere the bridge to the teeth. This procedure typically only requires one step.
How long do dental bridges last?
Generally, a dental bridge will last between five to seven years, and If the bridge is taken care of well, it may last up to a decade. However, as technology improves, dental bridges of the future will last much longer.
How do I care for a dental bridge?
Caring for your dental bridge is an important step in helping it last. Just like your natural teeth, you should brush your dental bridge twice a day and floss around it once a day. Your dentist will teach you proper techniques to keep the bridge clean. It's also important to see your dentist twice a year for cleanings.
Dental bridges are a great way to "bridge the gaps" in your mouth. If you have additional questions about dental bridges, please talk with your dentist to see if one is an option.