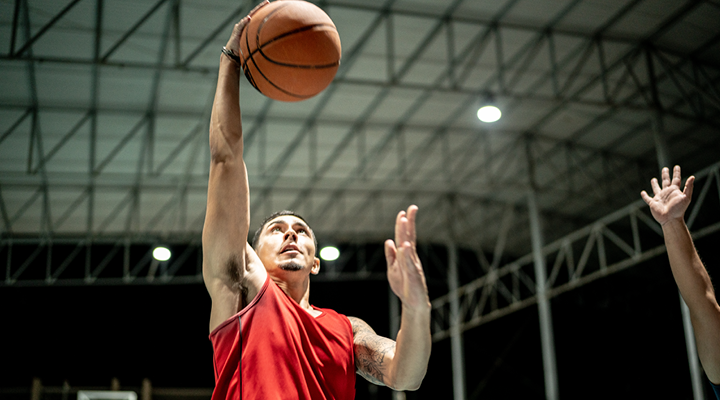 Every year in March, college basketball players from all over the United States come together to participate in the NCAA Basketball Championship Tournament, affectionately known as March Madness. Hundreds of athletes battle it out, hoping  their team is the last standing. To do this, it takes hours of practice, dedication, and taking care of their health.
One aspect of overall health that is often forgotten by athletes is their oral health. Unfortunately, a dental emergency can take even the most dedicated player out of the game. Therefore, athletes must make the extra effort to protect their smiles on and off the court. With the popularity of March Madness, let's investigate the connections between sports and oral health injuries, as well as go over methods of oral health protection for athletes both on and off the court.
Sports and oral health injuries
While participating in competitive sports can be fun and exciting, it also increases your chance of an injury. Some injuries are more common than others, such as oral health injuries.
Common oral health injuries in sports include:
Maxillary/mandibular fractures
Tooth fractures
Tooth loss
Oral lacerations
While people often associate dental trauma with sports like hockey, nearly every sport has the potential to cause oral health injuries. Basketball, baseball, football, skiing, snowboarding, martial arts, and rugby are just a few examples of sports that have a high likelihood of oral health trauma.
Many of the above sports rightly recommend mouthguards as a precaution against dental health injuries. Mouthguards are vital when participating in sports because you never know when your teeth will need protection during a game.
Basketball may not seem like a sport involving oral health injuries, but dental trauma often occurs from contact with other players. When you're watching March Madness, keep an eye out to see if any dental health injuries occur and how many of the athletes are wearing mouthguards to protect their teeth.
Teeth protection for athletes on the court
One of the most important things an athlete can do to protect their mouth is to wear proper protective gear. For many sports, a custom mouthguard is a great protective tool. However, wearing a mouthguard is sometimes considered "unnecessary" or "uncool" by young players. This is where professional athletes can make a difference.
If you have ever heard or seen anything related to professional basketball, you have probably heard of Steph Curry. Often regarded as one of the best basketball players, Curry has made wearing a mouthguard popular. Curry wears a mouthguard because he was elbowed in the face and busted up his lip playing college basketball at Davidson. Since the rise of Steph Curry, it has become more common for NBA and college basketball players to wear mouthguards.
Whether  for basketball, skiing, football or boxing, a mouthguard that  fits correctly is less  effective against oral health injuries. Here are mouthguards that Delta Dental recommends:
Ready-made or stock mouthguards: Since the fit can't be adjusted, these mouthguards are less effective than a fitted option but better than nothing.
Mouth-formed "boil and bite" mouthguard: These can be purchased at sporting goods stores and are molded to the individual's mouth.
Custom-made mouthguards: These are considered the best option but are also the most expensive. Dentists make these from a mold of your teeth, and they fit perfectly in your mouth and are the most comfortable mouthguard on the market today.
Mouthguards are instrumental to oral health protection on the court, but protecting your teeth is just as significant off the court.
Teeth protection for athletes (and you) off the court
Oral health protection starts with your at-home routine. Dental professionals recommend brushing your teeth twice daily and flossing once daily, including athletes. Although long hours of training may deter athletes from taking care of their oral health, it's important they make an effort.
Here are some tips to make sure your teeth stay healthy off the court:
Must-have oral health materials:
Click here for step by step instructions on how to properly brush and floss correctly.
We recommend visiting the dentist at least two times a year (once every six months).
These dental visits are significant because dentists can clean areas in your mouth that aren't reachable with a toothbrush or floss. Dental visits can also spot signs of tooth decay, gingivitis, cavities, or oral cancer. And if you're an athlete (even a not-very-good one), ask your dentist about a mouth guard!
Find a dentist and schedule an appointment today.
Want to learn more about oral health protection? Check out this blog: