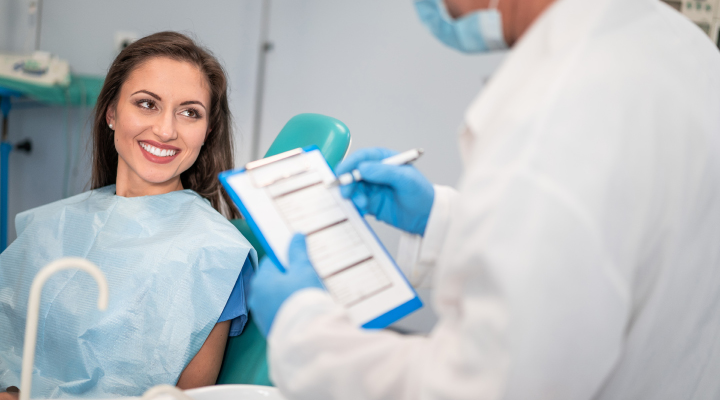 Did you know over 26% of Americans have avoided care or treatment because they are unsure of what their insurance covers? With words like deductible, copay, and premiums often getting tossed around, it's understandable that dental insurance can sometimes be confusing. Understanding how your dental insurance works will help ensure you're getting the most out of a plan at a price that best fits your budget.
Why Have Dental Insurance?
You may be asking yourself, "Do I even need dental insurance?" or "Why is it important?" Like other insurance policies, dental insurance helps cover the cost of various dental care services. Although there are plans that help cover major procedures like crowns or root canals, dental insurance is different from most insurances that cover you after an event such as a car accident because it focuses on preventive care, which includes things like routine check-ups and cleanings. Dental insurance promotes routine visits to the dentist, which help to maintain quality oral health and prevent more serious issues from occurring. An added bonus is these visits can also help you save money!
How Does Dental Insurance Work?
Whether you're offered a dental insurance plan through your employer or have opted for individual coverage, it's important to understand the ins and outs of dental insurance, which starts with selecting a plan.
Getting Started: Choosing Your Dental Plan
When it comes to selecting a dental insurance plan that best suits your needs, there are several factors to consider. Each plan works differently in terms of out-of-pocket costs, benefits, deductibles, and so on, and we'll dive into those words a little later. Generally, dental insurance plans are divided into the following categories:
Finding a Dentist
Dentists who participate in Delta Dental's networks agree to charge discounted rates for their services. While you can choose to visit out-of-network dentists, you will have higher out-of-pocket costs because they haven't agreed to the Delta Dental discounts. To ensure you are receiving your maximum dental insurance discount, start by using our find a dentist tool to locate a dentist in your plan's network.
Understanding the Cost of Your Plan
Similar to the structure of most insurance policies, dental insurance customers are required to pay a premium to have benefits, even if they end up not being used. It's also important to understand that even with a full-coverage plan, dental insurance won't always cover 100% of the costs associated with your oral health journey. Most plan enrollees should expect to pay some out-of-pocket costs. These costs are any amount the enrollee is responsible for paying on their own, including:
Deductibles: The amount a member agrees to pay for dental services before the plan begins to contribute
Costs Exceeding Annual Maximums: Members agree to pay any amount over and above the total the plan will pay
Copay: The share of the cost of certain dental services that a member pays
Coinsurance: A fixed percentage of the dental services cost that the member is responsible for
For more information on dental insurance, check out Dental Insurance 101.