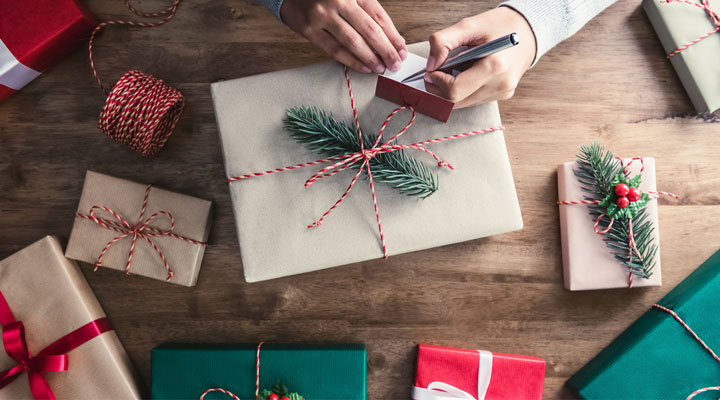 We all want to stay healthy year round, and in the age of coronavirus, it's no surprise travel of any kind is out of the question for most people. Heading to the grocery store has become a task of its own, and of course we want all holiday plans to go over without a hitch. With the most wonderful time of the year fast approaching, it's easy to fall into a panic about getting everything done on time. Fun, festive dinners must be planned in a safe way AND the Black Friday gift haul may have been a little too successful! Need tips on how to get your goods sent off in a safe, timely manner? We've got your back!
Ship Your Stuff
Mail services: the real holiday heroes. If you start planning early enough, do yourself a favor and order shipping boxes, take your package measurements (including weight) and get the best price for shipping by comparing carriers. Not to mention, the post office is always here when we need it – especially during the holiday season. Spread holiday cheer with a personally crafted care package by purchasing your gifts locally and sending them off to their individual destinations. Not only is shipping a Covid-19 friendly way to get your gifts delivered, but it is also a great way to help support the USPS. Even more convenient? USPS offers a variety of ways to pack and ship from the comfort of your own home. Bonus: you can schedule a pickup for your items, saving you a whole trip to the post office and keeping your quarantine game strong!
Subscription Boxes
Subscription boxes have become all the rage in the past decade, from allowing you to sponsor someone for a year's worth of streaming, to monthly snack boxes for the foodie in your life! Gone are the days of spending hours in the mall shopping for the perfect gift. Now, as long as you know your subject, you can find a subscription box that suits their lifestyle. Whether they're into fitness, cooking or just like a good book, there's something out there for everyone on your list.
Order from a Website
Pretty straightforward, right? Save yourself the headache of buying wrapping paper, tape or any other supplies by ordering your gifts online! Have them shipped straight to your recipient – don't forget to choose the gift receipt option before checkout! Many shopping portals offer a gift wrap option, as well so be sure to take advantage of all your resources.
The holidays can feel overwhelming, but they truly don't have to be! Tap into the options that will ensure that everything you stocked up on to make spirits bright can get to their destinations without a hassle. So, make that list, check it twice and get those packages out ASAP to be certain your loved ones can get something nice!
For more information on how to make the most of your holiday season this year, click here.
*Updated December 2021