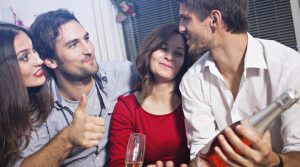 You don't have to be Greg Focker to know family gatherings can get a little stressful — especially if you happen to be this year's holiday host.
There's no doubt the season is filled with celebration and merriment, but almost all Americans — 90% to be exact — say they dread some aspect of the holidays.
Slammed shopping malls may be unavoidable, but don't let your holiday hosting duties drag you down! Host your family sans humbug with these 4 tips:
Recruit your relatives.
You have a full house so make sure to solicit assistance. Delegate duties ahead of time — match personalities to tasks accordingly. Does your aunt love to arrange the centerpieces? Does dad like to carve the bird? Make a mental list of who enjoys certain tasks — you'll please relatives and your stress level.
Think before you speak.
Wacky comments are bound to fly out of your brother's mouth. Bite your tongue and pretend your words are the holiday bird. In other words, stuff it.
Here's why: Pessimists have poor health and are linked to higher rates of infectious disease.
When we don't have control in a situation, we're more likely to feel stressed. You can't control your sibling's smart mouth, but you can control yours.
Change your outlook and you'll automatically feel better. Even if you don't have full control of a stressful situation, you can still choose to react positively and smile.
Control your cocktail consumption.
If you're going to binge over the holidays, binge-watch Orange is the New Black — not your wine. Make water your designated "drink spacer." Alternate cocktails with water to keep your body hydrated and your teeth stain-free.
Not sure what to pour? Shy away from hard alcohol — celebrate with wine or beer instead. These drinks tend to have a lower alcohol content compared to liquor.  After all, you're supposed to be getting into the spirit, not the spirits.
Get out of the house.
If you're feeling overwhelmed, it's perfectly acceptable to step out for a short, solo sweat session. You'll get the space you need — all while improving your mood and reducing your stress. Plus, incorporating aspects from your regular routine will make the holidays a little easier.
Congratulations. You're now ready to accept the award for "Best Holiday Host Ever." Make this year's gathering the best one yet!