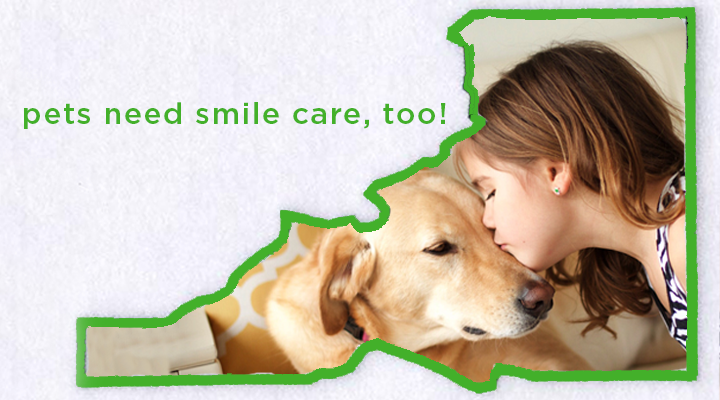 It's no secret that our wonderful state of Idaho is very pet friendly. We have dog parks, lots of farms and even goat yoga classes.Idaho also just created a special "pet friendly" license plate to benefit low-cost spay and neutering services. Nearly 60% of people in the state own a pet, or two, or three.
Even when they hog the bed or nibble on your clothes, your pets are still family and you need to take care of them.We all know good oral health makes for a healthy human, right? Well, it's no different for your animal friends.
Check out a few ways you can keep your pet's smile healthy:
Your pets need to see a pet dentist! They need teeth checkups too. It is recommended that your pet should receive their first dental cleaning around 2 years old. And ask your vet about any preventive measures you can use to help with your pet's chompers.
Keep your pet active. Whether you're hiking up a mountain with your dog or tossing a ball of yarn to your kitty, you are burning calories and so is your pet. Which is great because they need exercise, and maintaining a healthy BMI (body mass index) is actually very beneficial for their oral health, too. Health issues associated with obesity, like hypertension and diabetes, are known for contributing to poor oral health in humans and animals.
Look for treats, food or toys that will help with your pet's teeth. There are lots of dental health products to reduce plaque and tartar for almost every pet. Use them to help prevent oral health problems.
Use the following tools to help your pet's pearly whites stay healthy and strong:

Finger brush
Nylon toothbrush,
Pet specific toothpaste,
Teeth friendly chew toys.
Nothing makes us smile more than our pets so we need to do everything we can to keep them healthy and happy.
Here are a few places that are pet friendly attractions in Idaho:
Sandpoint Marine Motorsports- Sandpoint – Enjoy a day on Lake Pend Oreille. Sandpoint Marina Motorsports makes it easy, providing watercraft and accessory rentals for human and canine visitors.
Ste. Chapelle Winery – Kuna – Ste. Chapelle Winery offers delectable wines in a beautiful natural setting. Open seven days a week, this is the perfect spot for a tasting, a picnic, or an afternoon stroll with your best furry friend. Leashed, well-mannered dogs are allowed at the winery's outdoor tables.
Mile High Marina – McCall – This full-service Payette Lake marina has everything you could possibly need for an exciting trip on the water—boating supplies, a fuel dock, watercraft rentals, and a gift store.