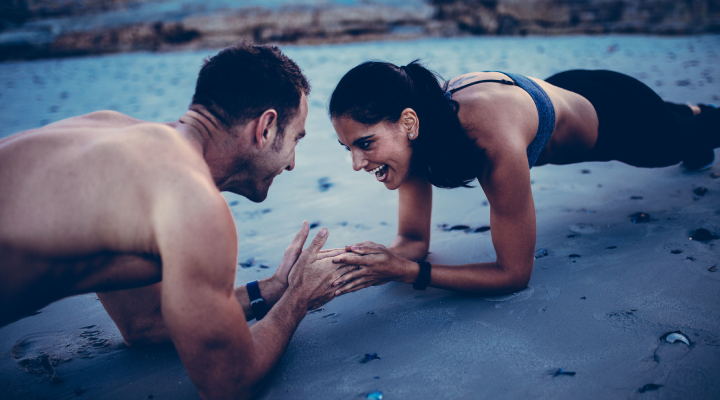 You've spent the holidays together, he's met your parents—he even has a spare toothbrush at your house. But have you and your significant other attempted a couple's workout?
The mere presence of your partner can increase your performance. Try one or all of these couple workouts:
6 stations for 1 minute each, with 30 seconds rest between each station
Repeat circuit 3 times
Equipment: Medicine ball
Plank high five
Face each other in plank position. Alternate high fives after transferring from your forearms to your hands.
Burpee high fives
Face each other while doing burpees. Do an air high five during the jump portion of each burpee.
Suicide races
Race each other doing 3-stop suicides. Use landmarks or cones.
     4. Ball toss shuffles
          Side shuffle while tossing a medicine ball back and forth.
Ball toss sit-ups
With your toes touching, toss the medicine ball back and forth while halfway through each sit-up.
Wheelbarrow pushups/squats
One partner stands and holds the other partner's ankles in a wheelbarrow position. The standing partner performs a squat while the other partner does a push-up.
More unique workout ideas: