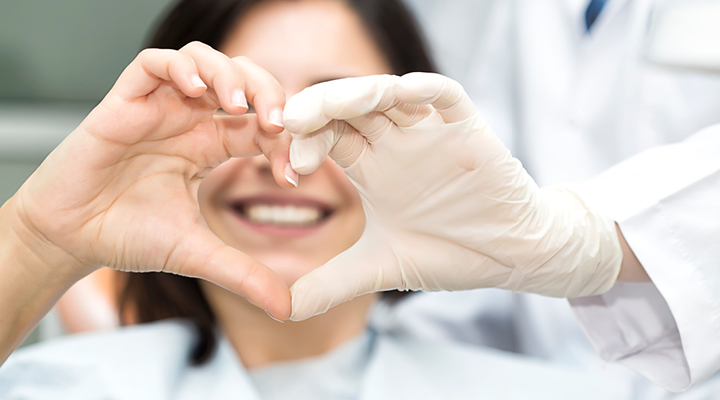 You wouldn't drive a car without car insurance. You can't purchase a home without home insurance. Why wouldn't you protect your oral and overall health with dental insurance? People with dental benefits are more likely to go to the dentist, receive preventive care, and experience greater overall health.
Why have dental insurance?
85% of Americans believe oral health is very or extremely important to their overall health, according to a survey from Delta Dental. However, only about 70% of Americans have dental insurance. More surprisingly, only about 48% of those with coverage actually see a dentist every year.
Dental insurance not only helps maintain good oral health, but it can also save money over time. Learn how preventive dental care, good oral health, and dental insurance go together.
Reasons why you need dental insurance
Dental care is more affordable with dental insurance
While it's important to brush and floss well, regular visits to the dentist are also necessary. Because dental insurance focuses on prevention, services like exams, cleanings, and X-rays are usually fully covered. Preventive exams help reduce the risk of more serious and costly problems down the line.
Additionally, dental insurance helps reduce out-of-pocket costs for many procedures by reducing the amount you pay. Without dental insurance, you would be responsible for the full cost of treatment.
Delta Dental helps you save even more because we negotiate lower fees with our in-network dentists. With 150,000 dentists participating nationwide, we make it easy to find one in-network.
Dental insurance saves money
Annual dental care costs start to add up for a family of four without dental insurance. Each family member should visit the dentist twice annually for preventive care. See the example below of potential dental care costs for a family of four: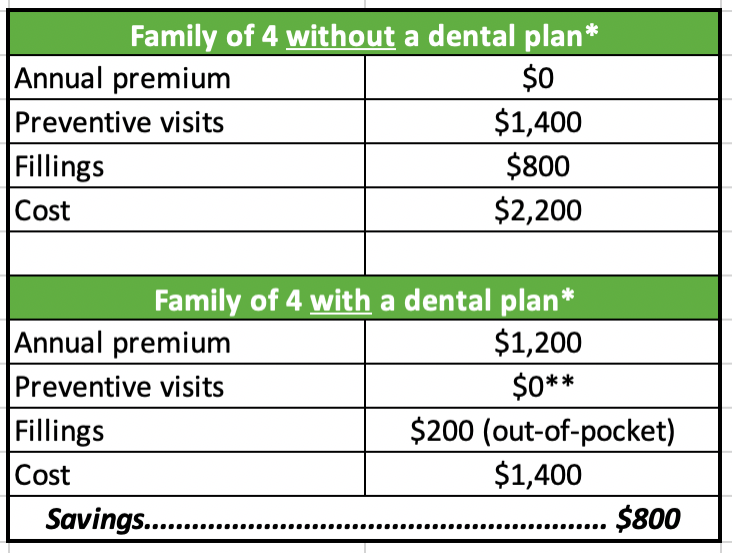 *Represents an example of insurance costs. True costs may vary.
Dental insurance helps you get the care you need
Families and individuals with dental insurance are more likely to get oral health care while those without it may develop complicated oral health problems and skip necessary treatments due to cost. Then those problems become worse. In fact, untreated and often preventable oral diseases have resulted in an estimated two million emergency room visits nationwide each year.
Dental insurance can help you avoid future dental problems
Regular preventive checkups help your dentist detect problems early. This can help you avoid costly and complex procedures, like crowns and root canals, down the road.
Dental insurance may improve your overall health
Dental care is good for your smile, and it has a positive effect on your overall health. Studies show a link between oral health conditions like gum disease and many chronic health conditions like diabetes, heart disease, stroke, kidney disease, and pregnancy complications.
During an oral exam, your dentist can detect signs of serious medical conditions, including oral cancer. This can lead to earlier, less costly, and even life-saving treatment.
When oral diseases go untreated, they can lead to problems with eating, speaking, learning, and productivity for children and adults.
Dental insurance can be good for your well-being
Your oral health affects your day-to-day sense of well-being. Many say they avoid smiling and reduce social participation because of their poor oral health. A smile is important for your self-esteem and confidence, but the simple act of smiling also has other benefits. Evidence has shown smiling has a positive effect on happiness levels.
Benefits of dental insurance
Why dental insurance? It helps protect both your oral and overall health and saves money in the long run. Learn more about your dental coverage options today.
To learn more about how preventive care can impact your smile, check out this blog.