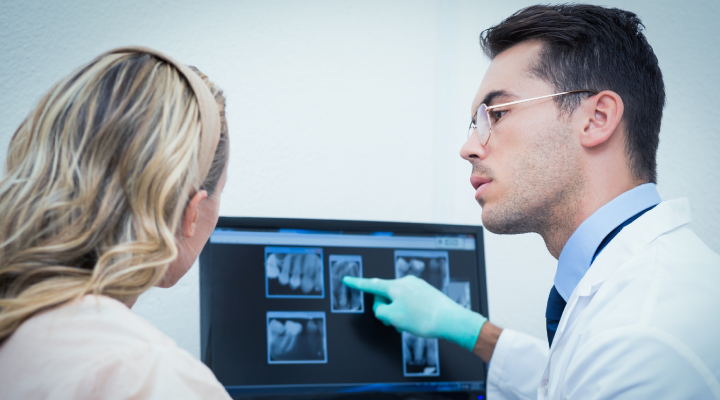 Our teeth are composed of 4 dental tissues—enamel, dentin, cementum, and pulp. Dentin is the hard, mineralized tissue beneath the enamel and cementum that surrounds and protects the pulp (soft tissue with blood vessels and nerves). Dentin dysplasia (DD) is rare genetic disorder that affects the dentin and pulp.
Here is more information on how both types of this hereditary anomaly affect dentin and oral health:
HOW COMMON IS DENTIN DYSPLASIA?
Dentin Dysplasia is a rare hereditary disturbance, seen in 1 in 100,000 people, characterized by irregular development of dentin in a person's teeth. In patients with Type 1 DD, sometimes called "rootless teeth," teeth appear to have normal color and shape, but the roots appear to be sharp, cone-shaped, and short in x-rays. Type II DD, known as the coronal type, is more likely to cause visible tooth discoloring since it affects the crown of the tooth instead of the root. Diagnosis is usually based on X-rays.
WHAT AFFECT DOES IT HAVE ON TEETH?
Dentin is an important tissue. It makes up most of our teeth and protects the pulp chamber of the tooth. In people with Type I DD, X-rays will show that teeth are missing pulp chambers or have half-moon shaped chambers in abnormally shaped roots. Affected teeth can chip easily and are misaligned.
In patients with Type II DD, pulp chambers look flame-shaped and have unusual extensions toward the roots. Pulp chambers can also have abnormal deposits of calcium salts or pulp stones. Tooth enamel can fall out prematurely when the dentin layer under the enamel crown is too weak to support it.
HOW IS DENTAL DYSPLASIA TREATED?
With Type 1 DD, care and treatment recommended by your endodontist makes it possible to maintain the appearance and function of teeth affected by dental dysplasia. Without treatment, patients with Type 1 DD could lose their teeth by age 40. Stainless steel crowns on molars can help protect against the wear in patients with Type 2 DD.
Learn about other oral health threats: