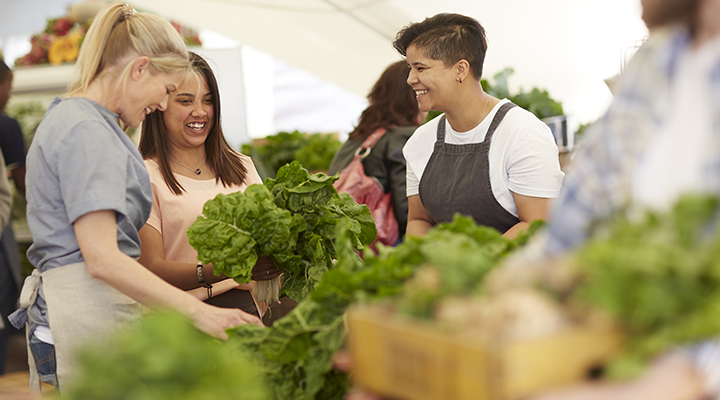 At Delta Dental of Idaho, we believe in the power of a smile. When your smile is healthy, you feel confident. You can light up a room, ace an interview, bring people together, spark romance. You feel like there's no end to what you can do. See, a smile does more for you than you think, that's why there is a National Smile Month!
There are many tried and true ways to take care of your smile, you may recall my having mentioned them before. You know, brushing twice a day for at least two minutes each time, flossing daily and seeing your dentist for regular checkups. You know all that, right?
Nutrition is another big factor in keeping your smile healthy. Here in Idaho we're lucky enough to have farmer's markets all over. These markets are a goldmine of fresh foods that are great for your teeth, oral and overall health. Crunchy produce like apples, carrots, broccoli, and celery are natural teeth cleaners with high nutritional values. They also have a high water content which helps wash bacteria away from your teeth. Speaking of nutrition, dark, leafy greens, like spinach and kale, among others, are full of vitamins, minerals and calcium, which are important for strong, healthy teeth and gums.
Nuts are a great choice over sugary or starchy snacks. Most nuts are full of protein and some, like peanuts, contain vitamin D and calcium, which are good for your smile. Their crunch even stimulates saliva to help clean your teeth, but watch out for nuts roasted with sugar.
And cheese! I love cheese! Besides the great taste, dairy products strengthen your teeth with high doses of calcium. And, according to a study published in the Journal of the American Academy of General Dentistry, cheese raises the pH (lowers the acid) in your mouth and reduces your risk of tooth decay.
Fruit is another farmer's market favorite. Packed with vitamins, fiber and other nutrients, fruit can often satisfy your sweet tooth without the negative effects of sugar. Citrus fruits, though, are full of acid and can be harmful to the enamel on your teeth, but they're full of vitamin C and fiber. Swish some water around your mouth or brush your teeth after you've eaten these fruits.
National Smile Month promotes oral health, but remember it all year long and you'll always enjoy the power of your smile!