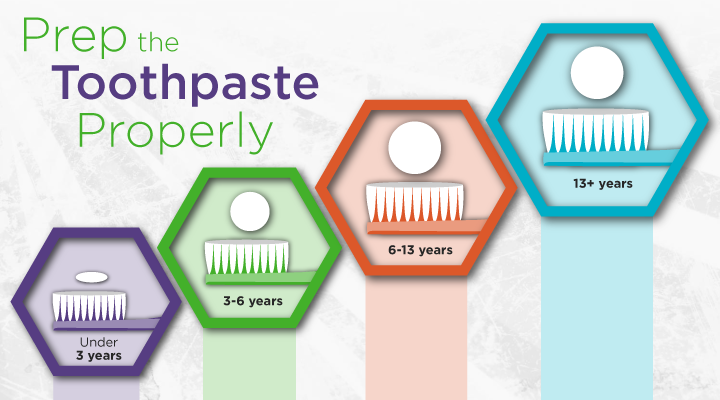 It is very important for children to start brushing their teeth as soon as they have teeth to brush, but there's a fine line between not enough and too much brushing. Even if kids have the best intentions of protecting their teeth, too much toothpaste can be a bad thing. According to the Center for Disease Control, roughly 40% of children between the ages of three and six use too much toothpaste.This actually ends up hurting dental health in the long run.
Here's what happens: enamel can become discolored or even develop pits due to excessive amounts of fluoride. It's an important ingredient in toothpaste that protects developing teeth from bacteria and decay, but should be used in the recommended quantity. Overzealous dental health habits can be just as bad as poor oral health habits?
In order to prevent this issue, here are handy tips for brushing that can help keep kids' teeth in tip-top shape:
Respect the Daily Brushing Routine
Establishing good oral health habits starts and ends with routine cleaning and care. Make brushing and flossing a normal part of the day — once in the morning and once at night — so that behavior carries on forever.
Find the Fun in Oral Health Habits
Brushing and flossing can seem tedious if not down right boring. Get kids engaged by helping them understand the long-term implications. It's up to you to impart your wisdom on the next generation and find a way to make it a fun experience! Try brushing together, playing a special brushing song, or even making a weekly brush chart with special rewards in order to incentivize the activity.
Prep the Toothpaste Properly
Are you confident that your child can brush productively? That means no gnawing on the brush or swallowing toothpaste. Until then, they'll need your help. This means doling out the correct amount of toothpaste to ensure your child isn't over loading. When it comes to best brushing practices, using too much toothpaste is a no-no.
For kids under the age of three, use an amount equal to the size of a grain of rice. For those in the three-to-six age range, nothing more than the size of a pea is necessary.
Looking for a dentist? Use our handy search tool!
Want more brushing tips? Check out: