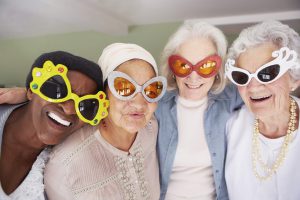 Written by Lisa Reed
Communication Outreach Director
Delta Dental of Idaho's new GrinWell For You program has helped more than 150 enrollees in its first 90 days, and we're celebrating! This new community outreach program kicked off in January. It provides free dental benefits to low-income older adults in targeted Idaho counties.
We've all heard that there is "no such thing as a free lunch," so many applicants can't believe a company would offer this kind of help. But Delta Dental of Idaho knows that many older adults on limited incomes have few or no options for getting dental care. So we developed the very real, GrinWell for You program, as a step toward ensuring that every Idahoan has access to dental care for the best health possible.
Once enrolled, participants can see a dentist in their community to get the help they need – fast. Just this month, one participant called to let us to know that after several years of not being able to afford to see a dentist and enduring a severe toothache for months, she is now pain-free. That's news worth celebrating! And if you happened to look into our office you would see us break into huge smiles as we take these calls and share success stories. It's our pleasure to share this one with you.