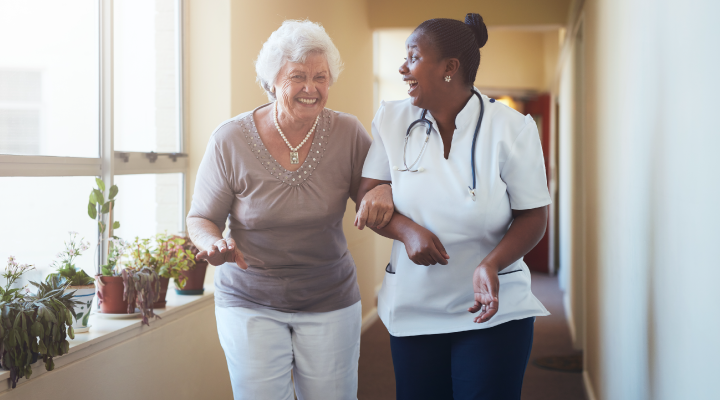 Do you have a parent or loved one who lives in a care facility? Whether its in-laws, parents, or an aging family friend, you want to be there for their health and wellness. Sometimes distance and schedules can complicate this. That's why we're providing the tools to care for the oral health of the older adults in your life. Having a healthy smile is linked to a better quality of life. So, we created a list of ways to develop an oral health care plan and check in with your loved one's care team.
Smile Care in Assisted Living Situations – Why is the Mouth an Important Element of Care
Old age doesn't mean we lose our teeth. Not caring for our smile health properly throughout our lives is what leads to tooth loss in old age. An unhealthy mouth makes daily activities like eating, smiling, and talking more difficult, even painful. When we're young adults, we still have some time to reverse bad oral health habits. But, as we age, it becomes increasingly important to consistently monitor our oral health.
Older adults don't always have the transportation or the hand dexterity necessary to care for their teeth. So, it's important they get the assistance they need to do so. The older adult population experiences a disproportionate risk of oral health problems due to a variety of factors:
After retiring, older adults are no longer eligible for employer-sponsored dental benefits, and many don't look into getting a new dental insurance plan for their needs. Shop new dental insurance plans here.
Complete dental care isn't covered under Medicare and dental coverage is limited.
Dry mouth, tooth decay, tooth loss, and tooth sensitivity can all lead to poor nutrition and poor oral health habits.
A lack of transportation may make regular dental visits difficult.
30 percent of older adults have problems with reliable transportation. But, solutions are available if you're looking in the right places! Eldercare Locator is a public service supported by the U.S. Administration on Aging. It can connect you and your loved one with transportation services to get them to their dentist and doctor appointments.
Let's get to know some myths out there about the smile health of older adults: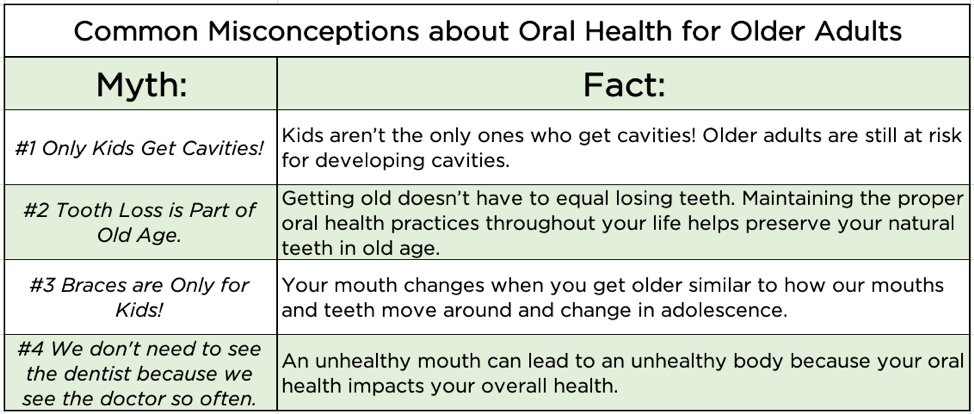 Cavities are still a reality in old age. One reason is because dry mouth is common in older adults. Medications used to treat disease can cause alack of salivation in the mouth. Dry mouth is listed as a side effect on more than 400 medications. Without adequate saliva flow, bacteria, plaque and the by-products they produce can accumulate in the mouth. This makes a person more vulnerable to gum disease, tooth decay, denture sores, speech problems, and eating problems.
Treatments for dry mouth include:
Topical fluorides or antimicrobial mouth rinses
Artificial saliva, oral moisturizers, and lubricants
Nighttime use of bedside humidifiers
Drinking fluids, sugar-free chewing gum, candies, and mints
Make sure you and the care team agree to keep the worst sugar offenders out of the kitchen, or at least in limited quantities. Avoiding these will help cut down on cavities and dry mouth:
Soda
Juices
Hard or sticky candies
Coffee
Alcohol
These recommendations can help alleviate uncomfortable side effects. It's also important to talk with your loved one's care team to 1.Review their oral health care plan or 2. Design an oral health care plan with them.
Questions to Ask the Care Team
What oral health practices are done on a daily basis?

Brushing should be done twice a day. Electric toothbrushes are recommended because they don't require as much hand dexterity to be effective.

Flossing should be done once a day. It's crucial to floss in addition to brushing because floss can reach the plaque that hides up under the gumline. Brushing alone can't reach there.
What products are used to facilitate brushing and flossing?

It's important that toothbrushes, toothpaste, floss, etc. have the ADA Seal of Acceptance to ensure safety and efficacy.
How often does a dental examination happen?

Some care facilities will have a dental provider visit twice a year to perform examinations on older adults who have limited mobility. Others take patients to the dentist. See what the set-up is for your loved one.
Many facilities have arrangements with dental hygienists or denturists for periodic assessment of all residents.

Does your loved one receive consultations other than with the dentist? How often?
Activities to Do During a Visit
The average person over 65 has 18.90 remaining teeth. Do you know how many teeth your loved one has? Does their care team? To truly get the best perspective on their oral health, sometimes, it's best to take a peek inside!
With clean hands, see if there are any sensitive, swollen, or bleeding areas that need a dentist's attention sooner rather than later. If there are issues, we recommend getting a dentist to perform an exam whether in their office or in assisted living as soon as possible.
Watch out for these signs of gum disease that can lead to tooth loss:
Bleeding gums during brushing
Gums that have pulled away from the teeth
Loose teeth or teeth moving apart
Change in bite or a change in the fit of partial dentures
Constant bad breath or bad taste
Maintaining oral health at any age is an ongoing practice. Make sure your loved one's smile is being cared for on a daily basis.
Need a dental plan that fits their needs? Browse our dental benefits options here.
Editor's Note: Content updated April 2019.