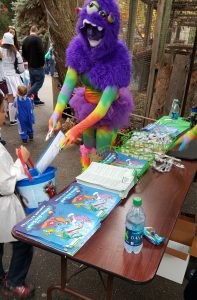 Kids from across the valley piled into Zoo Boise on Saturday for a chance to collect candy and other free swag while proudly showcasing their costumes. Delta Dental of Idaho has been sponsoring Boo at the Zoo for three years running. This annual Halloween event attracts thousands of families. It was a crisp (and slightly damp) fall morning this year, as we set up our booth next to the porcupine exhibit and prepared to hand out colorful children's toothbrushes in the shape of a dolphin…of course! Parents were pleasantly surprised by a toothbrush giveaway, expressing that is was very complimentary to the bagfuls of candy collected.
Children's oral health is a cornerstone of our community outreach efforts. Beyond our statewide Grins on the Go dental sealant clinics, Boo at the Zoo provides one more opportunity to share a valuable oral health message with families and create a positive association with dental care among kids.
Boo at the Zoo offered costume contests, games, face painting, and, naturally, trick-or-treating. Many parents jumped in on the fun by getting creative with their family costumes. We saw one dad in a beekeeper's outfit with his little girl in a stroller dressed as a bumble bee. Too cute! Our own Sales Director, Don, was a crowd-pleaser as he sported some Monster's Inc attire.