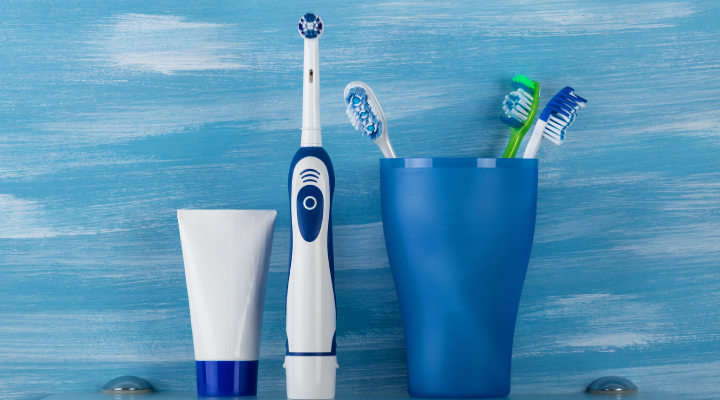 Electric toothbrushes—you've seen commercials for them and walked past them in the aisle. You wonder, "Are they really worth the money?" When some models cost as much as $180, it's best to do your research before upgrading.
Let's see if you should opt for an electric toothbrush or keep putting in the elbow grease with a manual one.
Advantages of Manual Toothbrushes
Less expensive
No need to charge or replace batteries
Easier to travel with
Easier to replace
Advantages of Electric Toothbrushes
Generally equipped with toothbrush timers
Can be more comfortable for people who have arthritis or problems holding a toothbrush
Rotating and oscillating bristle heads can effectively reach and clean trouble spots
What Current Research Says About Manual Vs. Electric Toothbrushes
The American Dental Association says both kinds of toothbrushes are effective if you brush for two minutes twice a day. But, a Cochrane Oral Health Group review found that electric brushes have a slight edge. The study saw:
an 11% reduction in plaque after 1-3 months of use
a 21% reduction in plaque after 3 months of use
a 6% reduction in gingivitis after 1-3 months of use
and an 11% reduction in gingivitis after 3 months of use
The long-term oral health benefits of electric toothbrushes are still unclear, however, this information allows us to see that electric brushes do have a slight advantage over manual brushes.
Benefits Dependent on Usage
No matter which option you choose, a clean mouth is dependent on proper brush use. Some electric brushes move side-to-side, while others move in a circular motion. Some manual toothbrushes have larger heads and layered bristles. Regardless of style, you need to brush twice a day for two minutes to see any benefits.
You should also use a brush with soft bristles to prevent gum damage. Too much pressure from a toothbrush can wear enamel and cause tooth sensitivity. Brushing should include all surfaces—top of your mouth, sides, your tongue, cheeks. The ADA even recommends chewing while brushing.
Wondering which powered brush is best for your mouth? Use this guide from the ADA to check for electric brushes with the ADA Seal of Acceptance. These electric toothbrushes have to meet specific standards set by the ADA.
Still not convinced an electric toothbrush is right for you? That's ok! You can use this guide from the ADA to check for manual brushes with the ADA Seal of Acceptance, too.
Talk to your dentist before making any changes. Ensure you're choosing the best toothbrush for your smile!