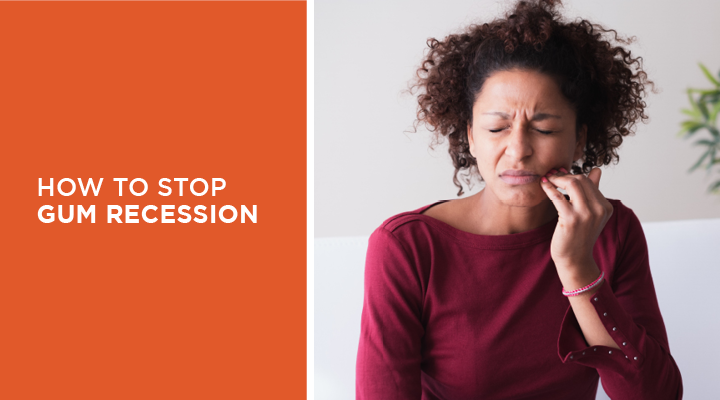 Gum recession can affect anyone, even those who follow excellent oral health habits. Factors like age and genetics play a part in this, which is why it's essential to know what you can do to stop gum recession.
Although you can't reverse gum recession and its effects, there are things you can do if you're curious about how to stop gum recession from worsening.
What is gum recession?
Gum recession is a form of gum disease in which gum tissue pulls away from the teeth, revealing the tooth's root. Like other forms of gum disease, gum recession results from poor oral health, making you more prone to cavities and a higher risk of tooth loss. According to Cleveland Clinic, "gum recession can be mild, moderate or severe. It may affect one tooth or multiple teeth."
Symptoms of gum recession
Most people with gum recession can identify the condition by visibly seeing the tooth's root. However, according to Healthline, other symptoms of receding gums include:
Bleeding after brushing or flossing
Red, swollen gums
Bad breath
Pain at the gum line
Visibly shrinking gums
Loose teeth
Causes of gum recession
Individuals over the age of 65 are most likely to develop gum recession. However, certain things can cause it in your younger years. It can be your routine, the presence of certain diseases, or a combination of both. Partaking in certain habits may put you at higher risk of developing gum recession, including:
Aggressive brushing
Tobacco use
Plaque or tartar buildup from poor oral health habits
Although poor oral hygiene is one of the most common causes of gum recession, certain pre-existing conditions can also be contributing factors, such as:
Periodontal disease
Diabetes
HIV
Genetic history
Dry mouth
Depending on the severity of the gums, nonsurgical and surgical treatments can help if you're wondering how to stop gum recession.
Nonsurgical treatments for gum recession
Although it's impossible for receding gums to grow back, there are nonsurgical treatments that can help halt any recession and reduce the appearance.
Root scaling and planing: Your dentist may recommend root scaling and planing procedures to remove plaque buildup and reduce the presence of bacteria in the gums.
Dental bonding: Dentists can use a tooth-colored composite resin to help camouflage the recession area, hiding the recession and making it more comfortable for you.
Natural remedies: Various studies find that oil pulling, aloe vera applications, and the use of essential oils contain antiplaque and antigingivitic properties. Note: Always talk with your dentist before trying any natural remedies for gum recession.
Surgical treatments for gum recession
If you're looking for a long-lasting treatment, your dentist or periodontist may recommend a gum graft surgery. During this procedure, a gum graft replaces the missing gum tissue by taking other tissue from various parts of your mouth. There are many different types of gum grafts, and your dentist will help you decide which is best for you and your situation:
Connective tissue graft: Skin is taken from the roof of your mouth and tissue from under the flap. 
Free gingival graft: Tissue is taken only from the roof of your mouth.
Pedicle graft: If possible, tissue is taken from the gums surrounding the affected area.
Although components like aging and genetics can play a part in the likelihood of developing gum recession, the best thing you can do to keep your gums healthy is to maintain a proper oral care routine. Brush and floss twice daily and visit the dentist every six months for routine cleanings and check-ups. If treatment is needed, discuss any of the options above with your dentist.