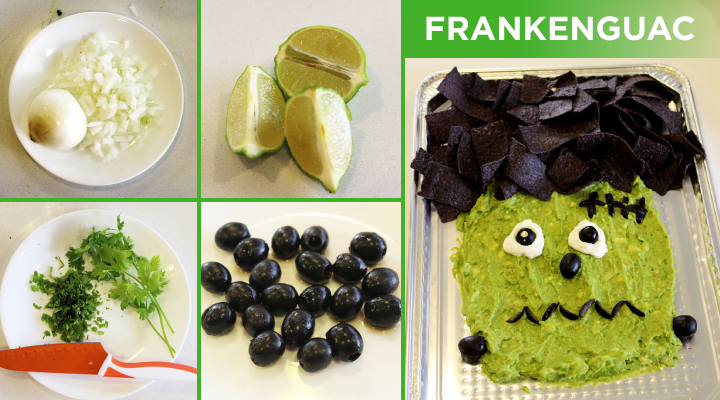 A healthy Halloween kid's snack is hard to come by these days, so we went ahead and made our own! Avocados are delicious, and they're packed with folic acid, a natural vitamin that helps our gum tissue fight inflammation and bleeding.
High amounts of potassium, or Vitamin K, are also found in avocado. Potassium helps make our teeth nice and strong, decreasing the risk of tooth decay! One cup of avocado has over 700 grams of potassium!
Avocados also contain the special nutrients we get from leafy greens called phytochemicals. They're rich in antioxidants and help protect your gums while keeping them healthy.
Add a dose of avocado to your diet this Halloween and share your healthy, low-sugar Halloween kid's snack all around the neighborhood!
Ingredients:
3 avocados
1 can whole black olives
1 small white onion
1 sprig cilantro
1 small lime
1 bag blue corn tortilla chips
Salt
Pepper
Make the Guacamole:
In a bowl, smash 3 avocados with a fork.
Chop ¼ of the onion.
Mince 3 tablespoons of cilantro.
Mix onion and cilantro with the avocado.
Squeeze in 2 tablespoons of lime juice.
Add about ¾ teaspoon of salt and pepper.
Create Frakenguac:
Spread the guacamole across a flat serving sheet into a rectangle.
Slice three olives into slivers to create the stitching for the scar and mouth.
Use whole olives for the neck bolts and nose.
Add two dollops of sour cream before placing the two whole olives for eyes.
Scatter blue corn tortilla chips above your Frakenguac for a wild hairstyle.
Looking for more mouth-healthy snack alternatives? Click here.