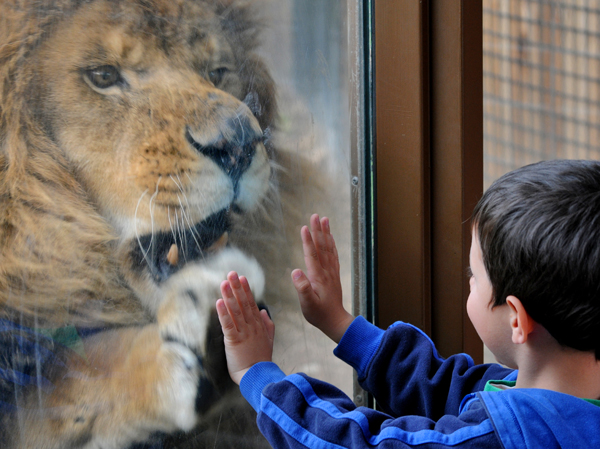 For over 5 years Delta Dental of Idaho has been a proud sponsor of Zoo Boise, a staple of our community visited by over 340,000 people each year.
Zoo Boise cares for every one of its animals, but as we celebrate National Zoo Lovers Day, we want to shine a spotlight on animal teeth. From the lion's chompers to the otter's little tiny teeth, they are all important to our friends at the Zoo.
At Zoo Boise, preventive medical care including routine bloodwork, vaccinations, parasite checks, and dental exams are at the forefront of keeping the animals healthy throughout their lives. Just like with humans, routine dental examinations of the mouth, teeth cleaning, and treatment of any issues, are addressed. When issues are identified, additional diagnostics such as radiographs may be done. For example, broken teeth may be extracted or receive a root canal; if an infection is identified, antibiotics are prescribed. Pain medications are also used when needed. Can you imagine performing a root canal on one of Pandora the Crocodile's teeth?
Routine cleanings and treatment for infection are usually addressed immediately by the veterinary staff at the time of the exam, but Zoo Boise has utilized specialists for procedures involving tigers, lions, sloth bears and ocelots. In addition to routine monitoring of animal health, the zoo provides food and enrichment items that may help keep teeth in good shape. For example, rodents need items to chew on to wear down their continuously growing incisors and carnivores receive bones and whole prey items to help keep their teeth clean.
For your own pet's health, the zoo recommends following your veterinarian's preventive medicine schedule which includes routine dental care.
Although Zoos around the country are closed until further notice, make sure to check out their websites to see if you can visit them virtually.
If the crisis is over, make sure to attend Zoo Boise's Boo at the Zoo on Halloween this year as Delta Dental of Idaho is the presenting sponsor.