Delta Dental of Idaho's Grins on the Go program is back and better than ever!
What is Grins on the Go?
Grins on the Go consists of four on-the-go teams: one in southeast Idaho, in south central Idaho, and two in southwest Idaho. These sealant-saving superstars provide free sealants and fluoride varnish in qualifying elementary and middle schools throughout the state. Each team consists of a registered dental hygienist, a dental assistant, and a clinic aide.
Why do sealants matter?
Molars naturally have grooves and pits in them. Unfortunately, these areas trap food and bacteria, which is difficult to remove even with daily brushing. In children, 90% of cavities occur on the biting surfaces of the molars. Dental sealants, a thin plastic coating that fills in the pits and grooves, are shown to reduce childhood cavities by up to 72%.
Sealing Decay and Saving the Day: Program Progress
Last year, over 6,000 children were seen through our Grins on the Go clinics, and close to 12,000 sealants placed. Our Grins on the Go teams currently serve 33 out of Idaho's 44 counties, working with more than 120 schools.
Grins on the Go's New Go-To Look
Sealing sparkling smiles calls for a sparkling new look. That's why we revamped our teams with a new van wrap, lab jackets, t-shirts, nametags, and more! Check it out: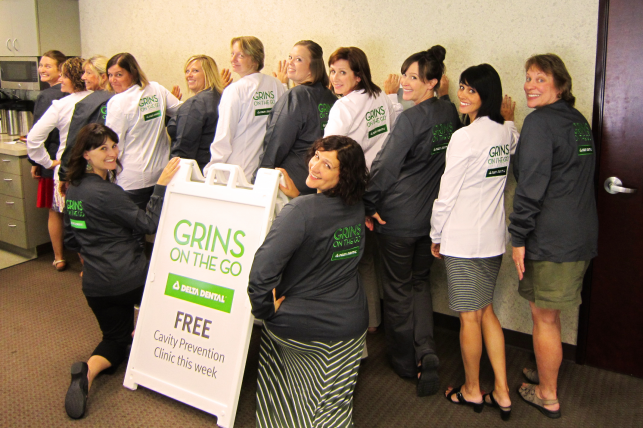 What do you think about the new look? Share your thoughts in the comments section!