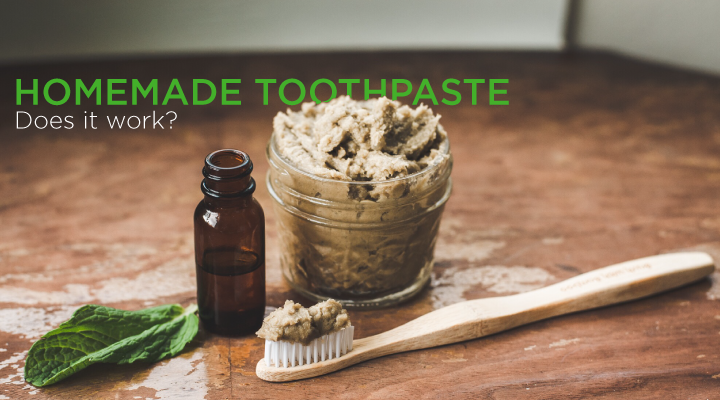 Are you interested in a homemade toothpaste? Be sure it has what it takes to prevent cavities and clear harmful bacteria from the mouth. Brushing our teeth isn't meant to just freshen our breath. We should brush our teeth in the morning, night, and after meals to remove plaque which is build-up of sticky bacteria from food. If it's not removed, it can turn into a hard-as-rock substance called tartar. Dental plaque and tartar are harmful to our oral and overall health. They not only cause disease in the mouth, but they are also connected with heart, brain, lung and kidney damage. That's why brushing our teeth is important to both the health of our mouth and our body.
Making your own toothpaste is a growing trend and although this puts you in control of the ingredients going in your mouth, we always recommend checking with your dentist for the best ways to improve your oral health. There are a lot of natural toothpastes available as well.
Many homemade toothpaste recipes claim to be as effective as commercial toothpastes. The ADA and Delta Dental of Idaho have your oral health at heart, so we recommend selecting your toothpaste from this ADA approved list.
Common Homemade Toothpaste Ingredients, and What They Do?
Curious what these homemade toothpaste ingredients really do? Homemade toothpaste can sometimes cause more harm than good to your mouth and smile.
Coconut Oil – Studies on the effect of coconut oil on the mouth are becoming more common. As of now, there isn't enough scientific evidence to prove that coconut oil or oil pulling are effective dental health practices.
Charcoal – Scrubbing your teeth with abrasive materials like charcoal may seem like it would polish away stains. Unfortunately, there is no evidence that shows dental products containing charcoal are safe or effective for our teeth.
If we scrub our teeth too hard, we can actually make them look more yellow. When the outer coat of enamel is rubbed away, a softer, yellow tissue called dentin shows.
Lemon Juice – Acidic liquids like lemon juice have the ability to erode our enamel. When combined with an abrasive substance like baking soda, it's a homemade toothpaste recipe for disaster. It's also why you're not supposed to brush your teeth right after vomiting.
Essential Oils – Good news! Essential oils can be used to help control plaque and gingivitis. This holds true when they are combined with ingredients like fluoride to help prevent decay and peroxide for whitening.
How to Pick a Toothpaste
The dentists we partner with follow the ethics and principles of the American Dental Association (ADA). The ADA has existed for over 160 years. Their mission is to advance the overall oral health of their dentists' patients. So, what does the ADA have to do with homemade toothpaste? The ADA has a seal of acceptance they give to dental products. The ADA Seal of Acceptance is universally seen in the dental industry as safe and effective. This seal can be found on natural tooth paste products and those that are not natural.
Make it easy on yourself and choose a toothpaste with the ADA Seal of Acceptance. The Seal lets you know the toothpaste you choose is safe, effective and won't damage your teeth.
Detergents, sugar-free flavoring agents, and ingredients to hold moisture all help a toothpaste work effectively. Toothpastes are sometimes made with flavoring agents that make them tastier. Unfortunately, some brands include sugar for flavor. The ADA won't certify any toothpaste with sugar in it since sugar is directly associated with cavity-causing bacteria.
There are dozens of brands that sell "natural" toothpastes that also have the ADA seal of approval. Check your local natural foods store and start shopping. Try different products and see what works best for you. If you have questions about the pros and cons of your natural toothpaste, check with your dentist. He or she is the expert in keeping your pearly whites healthy and bright!
Click here for more expert advice on brushing your teeth.
Need a dentist near you? Click here.