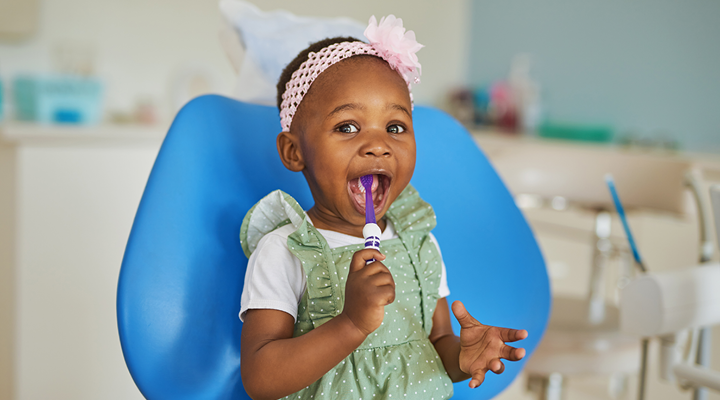 Many parents wonder if their toddler needs dental insurance. The short answer is yes!
Good oral health starts young! The American Academy of Pediatrics recommends booking an appointment with a dentist no later than your child's first birthday. Some dental professionals prefer to see young patients as soon as their first tooth comes in. Investing in dental insurance for the entire family ensures that everyone, no matter their age, will have good oral health. 
Check out the top three reasons why toddlers need dental insurance: 
1. Toddlers need dental insurance for a healthy mouth and smile
Toddlers need dental insurance to establish good oral health habits early on. Children are much more likely to continue those habits, such as seeing a dentist and keeping a good oral hygiene routine, as they grow. Additionally, when toddlers visit the dentist by 1, the dentist can help monitor or correct any oral health concerns before they become serious problems. 
Toddlers need to see the dentist and practice good oral hygiene to protect their teeth as they grow. Even though baby teeth fall out, keeping them healthy is still essential. Keep baby teeth healthy by brushing them twice a day with a pea-sized dab of fluoride toothpaste. Parents can begin using a fluoride toothpaste as soon as their child can spit.
Once your toddler has two teeth next to each other, they should begin flossing.  Read this article for tips   on teaching your kids how to floss. Have children brush under your supervision and assistance until they can brush by themselves – generally around age seven.
2. Avoid tooth decay in toddlers with dental insurance
Tooth decay is a serious disease that can cause infection in other parts of the body. What's more, toddlers with tooth decay are more likely to have oral and overall health problems as they grow up. Tooth decay leads to cavities, and untreated cavities can cause pain and infections. Poor oral health in kids can cause "problems with eating, speaking, playing, and learning," according to the CDC.
Additionally, toddlers with dental insurance have a lower risk of untreated cavities, which are associated with:
Pain when eating
Problems with speaking
Abscess under the gums, which can lead to a serious infection
If your toddler is on your dental coverage plan, preventing and treating tooth decay early by removing plaque buildup is easier.
3. Dental coverage for toddlers helps you save on dental costs
You won't have to pay for dental visits out of pocket if your toddler is covered under your dental insurance plan. Most plans cover exams, cleanings, and other diagnostic or preventive services at 100%, and your plan may also cover restorative treatments.
How do I sign my toddler up for dental coverage?
Having a baby or adopting a child is a qualifying life event,  meaning  you qualify to change your benefit plan before open enrollment. You can also do this during open enrollment. Simply choose family coverage and list your baby as a dependent. 
If you didn't sign up your toddler when they were a baby, reach out to your benefits administrator, broker, or Delta Dental's Customer Service.
Not covered? You can sign up for a Delta Dental plan that meets your family's needs.
When you opt for infant dental coverage, you invest in a lifetime of healthy smiles.