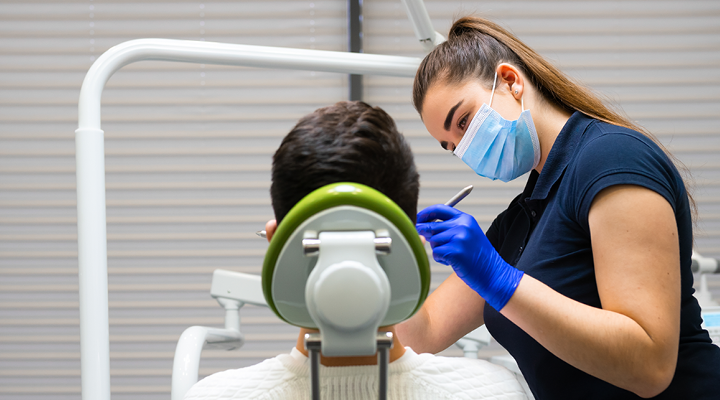 If you have dental insurance, you're taking an important step in caring for your oral and overall health. However, you may only be reaping some of the benefits your coverage offers.
How to get the most from your dental insurance
Figuring out if you're getting the most out of your dental coverage can be confusing. Follow the tips below to make sure you're getting the full value of having benefits.
Determine which type of insurance plan suits your needs
If you generally have good oral health and don't foresee needing specialist care, a plan lower in cost and with more limitations when it comes to choosing dentists and dental facilities may provide you with more value. However, if you like more flexibility and choice when it comes to oral health care, a plan with higher out-of-pocket costs but access to more providers may be more valuable. Take time to determine whether your current plan provides the most value for you and your needs.
For more information about insurance plan types, check out: Dental HMO vs. PPO dental insurance: what's the difference?
Take the time to understand your dental insurance plan
If you're like most people, you probably don't read the fine print in your dental coverage information packets. Although it's not the most exciting thing to do, it's key to understanding your dental insurance plan.
Take the time to read through and make notes about important information regarding your benefits. Look for keywords such as:
Copay: The amount of money you will owe for a specific service. This is usually a fixed amount and is sometimes found on insurance ID cards.
In-Network Providers: Dentists and oral health professionals who have agreed on pre-established fees for their professional services. Using out-of-network providers may cost significantly more than using in-network providers.
Annual maximum: The total dollar amount your dental insurance plan will cover for you and/or you and your family. These maximums are usually based on a calendar year.
Coinsurance: The percentage of the costs a policyholder will pay for services. This is different from a copay because the amount will vary.
A clear understanding of the costs you may be responsible for is critical to getting the most out of your dental insurance. You may be surprised by what your plan covers, especially on procedures like root canals or dental implants. Don't make the mistake of skipping out on treatments because you don't understand your insurance plan.
For a comprehensive review of common dental insurance terms, check out this glossary.
Use in-network providers
When choosing a dental insurance plan, asking which insurance your dentist accepts is a great place to start.
Insurance companies generally negotiate fees for services with specific providers in advance. Once both parties agree on the fees, these providers are considered in-network. If you go to an out-of-network dentist, their services are usually not covered, and you may end up paying 100% of the costs. Confirming that your dentist accepts your dental insurance plan before your appointment is always a good idea and can prevent any surprises.
Utilize preventive oral health care services
One of the most essential things you can do to make the most out of your dental insurance plan is to have regular check-ups and cleanings. Most dental insurance plans cover 100% of the cost of preventive services, so you have no additional expense, like a copay.
Seeing a dentist twice a year not only keeps your teeth shining but can also help detect potentially serious (and costly) issues. Dentists are trained to look for oral health problems like gum disease, tooth decay, and oral cancer at regular check-ups so they can treat them before they become severe. Taking advantage of preventive services may save you from expensive treatments in the future.
Contact your insurance provider
If you're having a hard time understanding your dental insurance plan, you may avoid procedures that can improve your oral health. Don't let this be the case! Always reach out to your dental insurance company's customer service team with questions regarding costs and coverage. They will answer any questions you have and clarify any confusion around your plan.
Getting the most out of your dental insurance plan doesn't need to be difficult
Remember, dental insurance is designed to help you maintain good oral health and manage the dental care costs. You can get the most out of your dental coverage by being proactive, informed, and utilizing your benefits effectively.
To learn more about dental insurance, check out this blog.